Democracy around the corner with the right Chemistry
Democracy around the corner with the right Chemistry By Fetsum Abraham//4/28/2013 The Forum I have been advised by some concerned Eritreans to ignore the so seemingly confused, haters and intentional infiltrators and probably government officials as well that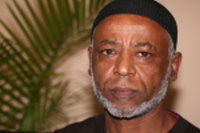 Democracy around the corner with the right Chemistry
By Fetsum Abraham//4/28/2013
The Forum
I have been advised by some concerned Eritreans to ignore the so seemingly confused, haters and intentional infiltrators and probably government officials as well that share the forum with no tangible substance to contribute to our society. This would, however, be against their freedom of speech, which is anti democracy in practice, needless to state that some of them are more valuable and respectable than the many impotent Eritrean intellectuals who are quietly watching the show from distance in their psychological entrapment. I respect them more than some of our scholars who are scared of taking their freedom of expression despite their education and responsibility.
Unfortunately, no one can expect decent communication with government freaks that are wasting our society like their own human essence for no other concept of life except destruction. One example is the old Zeleke and today's Asmara3 who sounds very much like one in the government (from top to bottom and in Asmara) and comes here with intense emotional discharge, frustration, sense of uselessness and defeat. Pushed all these to the limit, the result is an explosive sufferer good for nothing including the self. These are all symptoms by which the system's terrified and backward psychological state of mind have been academically characterized internationally: this person can not help representing the so called Eritrean leaders very well and that is why he is important here: Let people directly see what they are. We want them here to disclose themselves as part of the struggle for all rounded freedom including theirs (from themselves), without personalizing their offense. Vulgarism (illegal by law) was Asmara3's exit from Ghenet's intellectual confrontation because he does not know better; there is no more intelligent Eritrean mind that lives in today's Eritrea.
After Ghenet challenged brother Belay on the merit, he responded as; "GHENET: SELF RELIANCE WAS A SELF EXPLANATORY, THAT THE ISSUE RAISED IN 1961 WAS NOT ONLY, NOT EASY TO DEAL WITH,BUT WILL STAY FOR EVER,UNLESS OTHERWISE. AND BELIEVE ME AS FAR AS WE KEEP ON CHEATING OURSELVES ON RELATING ERITREAN PROBLEM WITH THE PRESIDENT WE KEEP ON GOING FROM BAD TO WORST."
Comment: I am fascinated by how Belay Nega's mind stopped at one psychological and historical fixation; by how it is conditioned to spin around the axis of his existence, Mr. Afwerki, who destroyed the concept of Eritrean SELF RELIANCE through division, exodus, ignorance and dictatorship. Anything ERITREAN collapses for this brother in the absence of Afwerki. "AND BELIEVE ME AS FAR AS WE KEEP ON CHEATING OURSELVES ON RELATING ERITREAN PROBLEM WITH THE PRESIDENT WE KEEP ON GOING FROM BAD TO WORST." says the mind of Belay nega that has no answer to 'what After Afwerki?' Life stops at that point for brother Belay who I love to see in the forum because of his no-solution consistency and mostly for his entertaining responses. Check this out for instance.
Eritrea:
"belay; Be creative learn how to write don't copy; if writing is hard for you, just read what others want to say; you consistently rewrite  & & &. oh! i forgot you r on DIA payroll. you should go back to school & make something of your life. ask question and get to know HGDF & PFDJ O P E N your eyes; may God help you"
belay nega:  " YERDAKA/YERDAKI"
Comment: I laughed so loud to the extent I was surprised about how addictive his responses can be. Of course I do not think Belay is in DIA payroll since DIA is a parasite programmed to take, never to give. If ever brother Belay is rewarded for his service, it will only be humiliation like all others in the category needless to say he is addicted to humiliation to the point of no return like I am addicted to his responses.
The others, I don't know but to say something, I think Dawit was riding in the fast lane of HATE before running out of steam at least in this forum. The extreme nationalist Trully is still around with his pages of Weyanne Panic; he is welcome to continue his contribution (what ever it is).
I hope I will have a cappuccino in downtown Asmara with Belay nega, God willing pretty soon.
Quote of the moment: The older intellectual community created this mess through silence, conformism and fear; therefore it is responsible for saving the society by declaring freedom from its self-inflicted psychological confinement to reverse the situation. There is no justified fear of a dying regime any more: the intellectual substance of an individual is a derivative of personal freedom, slavery otherwise.
In this article, I want to discuss how close we are to success and the missing link to crank the engine to Asmara from two important points of view, the RESISTANCE and the DEMOCRATIC air in East Africa.
The resistance: the future Eritrean political condition is the question for us to design carefully in order to stop opportunist politicians from stealing freedom in post-Afwerki Eritrea. I am saying this because the regime is done internally and externally only waiting for us to do the right thing and finish it off either peacefully or violently. Until we do what we have to do for the final push, Afwerki is helping a lot chopping himself off by eliminating his most dedicated slaves in the system (jail, death). He is part of the resistance in this regard and I welcome him warmly to continue the purging so that the society does not have to deal with the leftovers after his departure.
I think our people are ready for change and applying the right formula is delaying the solution. I find it interesting to substantiate this theory through the following reality although this alone cannot prove my hypothesis.
Eritreans are today communicating through the Pal-Talk media and the breakdown of room members at least at randomly picked time looked as the chart here-under:
| | |
| --- | --- |
| ROOMS | Members |
| Semmer | 424 |
| Unity worldwide | 124 |
| Dem + Justice | 78 |
| Mensei ndem + fithi | 45 |
| Teshamo ndem + Fithi | 78 |
| Viva EPLF | 26 |
| Aynfalale | 11 |
| Akeleguzai tsere Hamasien | 1 |
| | 787 |
This many Eritreans were in different politically oriented PaLTALK rooms out of which AYNIFALALE considered neutral (subjective view based on the name) and the last room in the list considered Nazist (divisive infiltration made by the regime), the rest breaks down to 26 pro government and 749 pro democracy and justice (Resistance). Now adding the two biased numbers (26 +749) equals to 775. This means 97.6% Eritreans in the rooms (749/775) were for the resistance and 3.3%  (26/775), pro government. This reflects the extent of damage Afwerki and his system inflicted to their legacy. This also says that Afwerki can be easily nullified with his system with correct resistance; people are ready for change through correct leadership to future Eritrean democracy.
In the mean time, the few supporters of the regime are still napping in denial while the quietist intellectual community could not yet free itself from fear.
In so observing, I wonder what the hater at the bottom of the rooms was doing there by himself and what he was thinking of accomplishing through unanimously rejected loneliness. This proves that Eritreans do not allow haters as such to disturb the society; they leave them to figure out their issues in terrifying solitude.
The DEMOCRATIC air in East Africa:
There is no doubt that misery needs company. It was for this reason that the system in Asmara wasted many precious years of the society helping anti-democratic terrorists to kill the democratic environment of the region until stopped by the united forces of democracy in East Africa and elsewhere in the world.
Now, let us checkout today's East-African political picture to see where we are all heading in the near future:
Ethiopia: We know that the EPRDF government under Meles Zenawi had at least went for election twice so far and ha peacefully transferred power to the next man in the line Mr. Desalegne until the next election is held in the country. There is no doubt this development tells the foundation of democracy and constitutional government are put to place in the country though a long way to go to get it straight.
Djibouti: "Voters in Djibouti re-elected President Ismail Omar Guelleh by an 80% margin in that nation's April 8, 2011 presidential election. He defeated Mohamed Warsama Ragueh, an attorney and former judge who took 19% of the vote." There is no doubt that this country is heading on the right way (Democracy and constitutional government).
Somalia: Somalia chooses new leader in presidential elections; 2012
"Hassan Sheikh Mohamud defeats the incumbent president Sheikh Sharif Sheikh Ahmed to become Somalia's new president. Ahmed, the outgoing president, conceded defeat [and said] "I am happy to see the first free and fair election happen in Somalia after 40 years. I want to congratulate the new president for the fair election, and I want to declare that I am fully satisfied with the results."" There is no doubt that this country has finally produced one of the best African Democracies and constitutional government.
Kenya: Nairobi, Kenya (CNN): 2013 – "The Kenyan Supreme Court on Saturday upheld Uhuru Kenyatta's victory in the presidential election, dismissing a challenge by his chief rival. The nation's highest court declared the election "free and fair," ending weeks of uncertainty after the disputed March 4 poll. Kenyatta, the 51-year-old son of Kenya's founding leader, won the election with 50.07% of the vote [and] Raila Odinga, who got 43.31%. After the court issued its ruling, he said he accepted its judgment and would abide by it. "The court has now spoken," Odinga said, "I wish the president-elect and his team well." There is no doubt that this country has chosen to go democratic.
Southern Sudan: "General elections were held in South Sudan between 11 and 15 April 2010 as part of the Sudanese general elections. The result was a victory for Salva Kiir of the Sudan People's Liberation Movement, who received almost 93% of the vote." There is no doubt that this newest African country has chosen to go democratic at least potentially with a lot of work ahead.
Uganda: Ugandan president comfortably wins re-election; 20 Feb 2011
"Yoweri Museveni, the Ugandan president, was comfortably re-elected on Sunday, taking more than two thirds of the vote in elections. Mr Museveni, 66, won 68.38 per cent of Friday's vote, according to full provisional results. The commission declares the candidate Yoweri Museveni elected president of the Republic of Uganda," commission chairman Badru Kiggundu said." There is no doubt that this country is also heading on towards or has at least accepted democracy as the only means of peaceful coexistence universally.
Sudan: By Mohamed Osman; "Sudan's president said he intends to step down in 2015 after more than 20 years in power. In an interview published in several Sudanese dailies on Wednesday, Omar al-Bashir said the people of Sudan need "fresh blood and a new impetus to continue their march". The next presidential election is due in 2015." There is no doubt that this country has finally accepted democracy as the only way to go in running a society. I hope this promise will be put to effect and we encourage President Bashir to pass on doing something good to the Sudanese.
Eritrea: Out of the show and nowhere to be traced in the democratic environment of the East African community. The isolated dictatorship is now sandwiched by the unstoppable democratic atmosphere of the region with no other alternative to giving it up or kicked out through the resistance. Time is catching up for the dictator and his officials to become history together. The system is desperately trying to survive alone and it is manifesting its frustration by chopping itself off a piece at a time (jailing officials and some dying in custody).
The missing link:
Too many Phds and professors in all areas of social science are silently navigated to freedom by the mass and the traumatized kids like sheep and goats directed by a shepherd in this wired Eritrean experience. This is the most mesmerizing surprise of my life as an individual from that society. The shepherd is at least a human being with higher level of intelligence but what do you call the relationship in the first?
How do you explain an Eritrean law professor scared of his/her freedom of speech against what he/she teaches in the classrooms?
How do you characterize an Eritrean social science professor who teaches the concepts of freedom and justice sliding off in substance by failing to advocate freedom and justice in one's own society?
How can an educated person confront his/her intellectual integrity after silently herded to Asmara by the mass and expect to "contribute" or take advantage of the Eritrean freedom without any tangible contribution to that effect?