"ክርእየኩም'እዬ" Issayas Afewerki
"ክርእየኩም'እዬ"  Issayas Afewerki (1) It was a diabolical threat by Issayas Afewerki Abraha Miratch to the four – six million people of Eritrea. Let us admit. He accomplished his threat without a shadow of doubt. Eritrea is now under his 'Boots'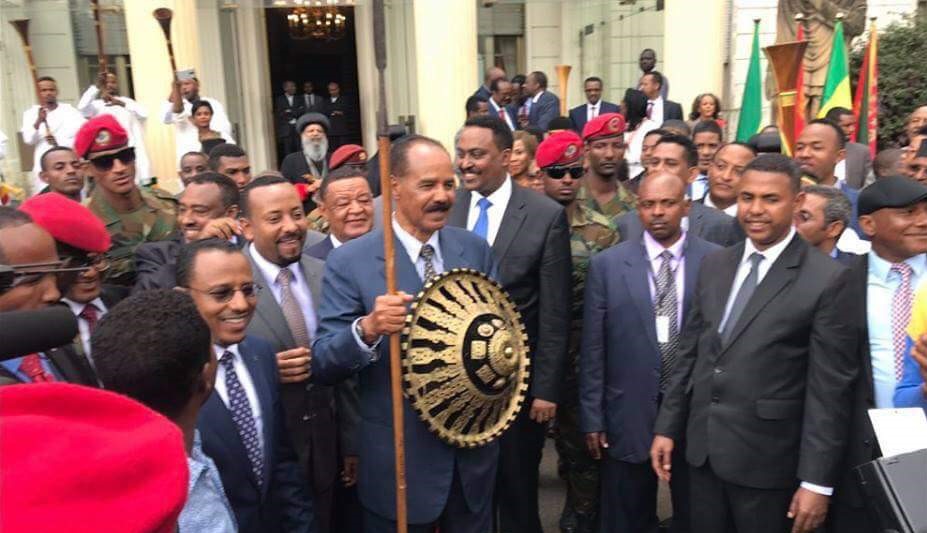 "ክርእየኩም'እዬ"  Issayas Afewerki (1)
It was a diabolical threat by Issayas Afewerki Abraha Miratch to the four – six million people of Eritrea.
Let us admit. He accomplished his threat without a shadow of doubt. Eritrea is now under his 'Boots' – and no doubt, he will do more before he is forced out by Nature or fluke [NOT by Eritreans; the reason for which will be discussed below. During the thirty-year (30) Struggle for Liberation and four (4) years after Liberation, the Eritrean people at large — and in particular, his closest comrades – DID NOT have a clue of 'who Issayas was', incredible and unbelievable as it sounds. Issayas was glorified as a Semi-God; and as a SAVIOUR of ERITREA.  In the epic of his glorification period, a person heard criticizing Issayas in down town Asmara would be risking his/her Life right on the side street.   Surprisingly, still, there are Eritreans who glorify him, without a limit. An honest Lady asked her closest relative in a whisper: እዚ ኢሳያስ፤ እንታይ እዩ ጌሩኩም፣ሽሙ ተጥፉእዎ?! Indeed, Issayas had, and still seemingly have, hypnotic quality upon Eritreans.
After 1994 (or about that period), it became a glaring fact that issayas Afeworki Abraha had, and still has, long hatched hatred towards Eritreans. Eritreans would not believe it at first, but repeated criminal action forced Eritreans to accept the ugly reality of Issayas.  It was a shock to a point where Eritreans found themselves numb in disbelief.  Indeed, as he promised, he showed us who Issayas is – and by extension (deductive) he identified our inherent character!!!  In fact, it is because of that inherent flaw of characteristic that Issayas was shrewd enough to KNOW and TAKE ADVANTAGE of to execute his long-held revenge, based on long held hatred. But, what was our inherent flaw of characteristics that Issayas took advantage of us? Let us narrate the facts on the ground upon which Issayas took advantage of:
1st. When Issayas daringly ordered the rounding-up of eleven (or so) of his top most comrades, at exactly 0300 hundred hours and threw them to oblivion, not a single Eritrean Fighter, nor a commoner, came out to protest.  The Nation of Eritrea quietly accepted the nightly arresting of gallant freedom fighters. It is a 'black' spot that Eritreans will, for ever,  carry upon their consciousness.
2nd.  Issayas also took advantage, as necessary, the everlasting phenomenon of RELIGIOUS inherent friction that existed in Eritrea for seemingly time immemorial. In short, RELIGION becomes – NOT personal spiritual belief – but a factor in civil administration of the country.  And that has never been a healthy situation in any country.  Eritrea was saddled with it for many decades and will probably continue so until disintegration.
3rd. Issayas was also very conscious with matters pertaining to REGIONS, RACE, TRIBES, etc. We are still divided by that age-old disease – no matter how much we pretend to deny it.  We never wanted to admit it, nor reject it, with rational debate (expose'), in either way. It is always through INSULTS that we attempt to bury our weakness – a reaction that has been accepted as a proof of our lack of rational ability to debate. The daily commentaries on the Internet is the proof.
Where do we go from here?  Why do have 80 – 90 diversified groups? How do we get together on one common interest (agenda)? Do we in fact have a common goal? Or are we pretending to go through the usual motion of occupying ourselves with deception? By the way, a good example of that last question is the fact that we do not utilize the space we are freely provided with by www.archive.assenna.com. Instead of using it as platform to produce a common solution to our common problems, we spend our time INSULTING and MANIPULATING  each other in order to achieve our separate HIDDEN agenda, based on religion, region and other factors of self-interest.
I STOP here, lest I would be repeating like a broken record >>> if I haven't done so already. In that case, I ask for your forgiveness, Dear Readers, and leave the FIELD to our Scholars with the Highest Academic Qualifications and Degrees to get together and find us a way out of our own creation of 'swamp'.  The alternative is clear, whether we like it or not. THE END
———————————————–
Footnote:                                                                                                                                                       
(1) "Eritrea at a Cross roads – A Narrative of Triumph, Betrayal and Hope"  by Andebrhan Welde Giorgis (2014)  page 322: " ከርእየኩም'የ! ነዛ ዓዲ፣ከምታ ዘምጻእኩዋ ከጥፍኣ እዬ።"